*What is currently open in North Conway?
Updated September 2nd, 2020
When visiting the area, please be sure to wear a mask and be patient.  Most businesses are open but with adaptations from normal operations. Many require advance reservations so be sure to plan ahead. New safety protocols take extra time, so please don't be surprised if you have to wait longer than usual.  You'll find general information below about a variety of activities, but we suggest you either contact the business or visit their website for the latest updates on procedures as they can change on a moment's notice.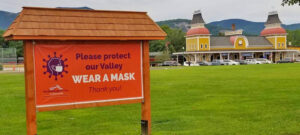 Governor Sununu announced that Indoor Movie Theaters, Performing Arts, and Amusement Parks may begin reopening on Monday, June 29, 2020.
Restaurant update:
As of June 15th, 2020 restaurants in New North Conway area are allowed to host indoor and outdoor dining, take-out delivery and curbside pickup. Restaurants that want to host dining must space out tables a minimum of 6 feet apart and the wait staff must wear masks.
Lodging Update:
 As of June 5th, Hotels, Motels, B&B's, Cabin Communities and similar
accommodations open to the public, including short-term rentals, may accept overnight
reservations from New Hampshire residents, or out of state visitors who have met
the 14 day quarantine requirement. Reservations may be accepted by phone, online,
or in person.
Operators should require a copy of
a NH driver's license or a signed document from the guest(s) attesting that all the person(s)
staying at the lodging facility remained at a home for at least 14 days before arriving in
New Hampshire, only going out for essential items and when outside of the home
maintaining social distancing and wearing face masks when within less than 6 feet of
another person during this 14 day "quarantine". Out-of-state guests should be made aware
at the time of the reservation of the need for this requirement and signature. 
Campgrounds (Updated July 3rd)
Effective immediately, campgrounds may be open to residents of New England
states, members, or non-New England visitors who have met the 14-day quarantine
requirement. Members are not required to meet the quarantine requirement.  See State Guidance document 
Federal campgrounds along the Kancamagus Highway are open to NH resident and all other visitors. For more info go to the USDA Forrest Service and  Saco Ranger district 
This includes :
Blackberry Crossing Campground
Cold River Campground
Covered Bridge Campground
Jigger Johnson Campground
Passaconaway Campground
Hancock Campground
Big Rock Campground
Day Camps will reopen June 22nd
This guidance applies to summer day camps/playground programs offered by
municipalities, private day camp providers and youth serving organizations.
Review and follow the NH Universal Guidelines
Review and follow CDC considerations for youth and summer camps.
Day camp staff must be recruited from and be residents of New Hampshire or out of
state staff who have met a 14 day quarantine requirement
Day camp attendees are restricted to children who are New Hampshire residents or
out of state campers who have met a 14 day quarantine requirement  See full guidance

 Attractions Update:
The following Major attractions are now open Please visit their listings on our website. Some attractions have limited operations:
*Conway Scenic Railroad
*Storyland – Story Land is closing Labor Day rather than the usual closing date of Columbus Day.  They have advised that all 2020 season passes will be valid for 2021
*Living Shores Aquarium 
*Attitash – Alpine slide & scenic chairlift (Currently open Saturday, Sunday & Monday)
*Mt Washington Auto Road
Scenic Attractions Update: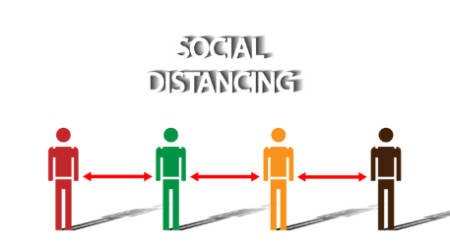 Social distancing a minimum of 6 feet apart is reccomended for safety, both indoors and outside.
1) Kancamagus Highway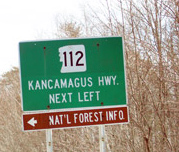 The Kancamagus Highway is open to the public to drive along. Facilities and parking may be limited.
Among sites that were announced as reopening were the Albany Covered Bridge, Lower Falls Recreation Site and Russell-Colbath Historic-Site, all in Albany, and Glen Ellis Scenic Area in Jackson.
Other trailheads that have reopened are  Albany Covered Bridge, Basin, Boulder Loop, Champney Falls, Lower Falls (parking & bathrooms) Downes Brook, Liberty/Brook/Bolles, Oliverian Brook, Piper, White Ledge, Carter Ledge.
Other day use areas that opened:  Rocky Gorge Scenic Area and Sabbaday Falls Observation Site. 
1) Diana's Baths
Diana's baths has been reopened.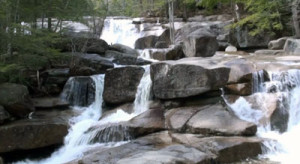 Please be patient, as many visitors are trying to enjoy our outdoor activities and sights this year. The photo below was take recently shows a line of cars trying to park in the lot at Dianas Baths. It is best to avoid peak hours and go in the morning or later in the day to avoid lines. Please be courteous and do not leave any food or trash behind on the trails!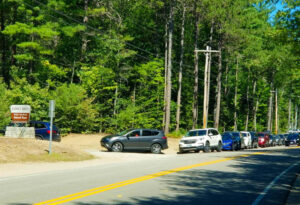 2) Echo Lake State Park is currently open
*See current guidance on the opening of NH State parks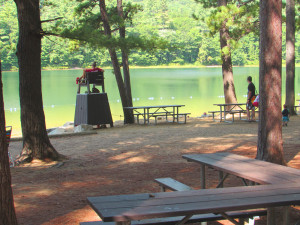 3) Cathedral Ledge is currently Open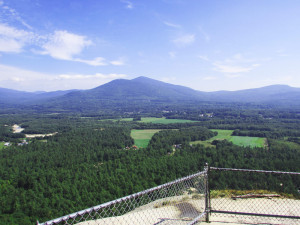 Stores and Shopping Update:
What stores are currently open in North Conway?
Grocery stores and pharmacies are currently open.
Retail stores are also allowed to be open.
All customers are encouraged to wear a mask. Some stores may require customers to wear a mask.
All associates are required to wear a mask.
Retailers will be able to allowed up to 50% of regular capacity in store at all times. Patrons and associates must follow social distancing guidelines
Settlers Green will be open on Memorial Day weekend with the following hours: (some stores may have modified hours)
Monday-Saturday: 11:00am-7:00pm
Sunday: 11:00am-5:00pm
Memorial Day Monday: 11:00am-6:00pm
Outdoor Activities Update:
Gov. Chris Sununu has recently announced that some outdoor attractions are now permitted to re-open in New Hampshire, including miniature golf courses & driving ranges. Golf courses are not yet alowed open to the general public. Effective May 11, 2020, golf courses may open to members and New Hampshire residents only . See here for state guidance on Golf:
Canoe and kayak rentals, Centers for biking, outdoor shooting ranges, paintball, and equestrian facilities, outdoor guiding services
(fishing, hunting, hiking), and other small group outdoor activities. See State guidance which has been issued. This guidance applies to outdoor activities situated in recreational or natural settings that occur individually or in small groups of 10 people or less.
Places of Worship, Weddings, Funerals Update:(As of MAY 29th,2020)
Effective immediately, in person religious services may resume in accordance with the
following guidance and religious services taking place under this guidance shall be exempt
from Emergency Order #16. This guidance applies to indoor and outdoor religious services,
including weddings and funeral services.  For full guidance see Stay at Home guidance 2.0