Echo Lake State Park - North Conway NH
The Official North Conway NH Area Guide
Echo Lake State Park – North Conway NH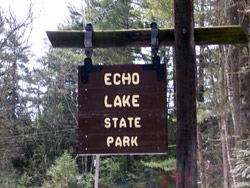 Echo Lake State Park (Home to Cathedral Ledge & White Horse Ledge)
---
Location– 60 Echo Lake Road, Conway NH 03818 (located off from West Side Road)
Phone– 603-356-2672
Hours of operation– 9:00 Am -6:00 PM (gates close at 8:00 PM) Open weekends starting on Memorial day Open Daily end of June thru Labor day
Pet policy– No Pets allowed in the Park
Activities available in the Park– Swimming (lifeguard on duty), Hiking, Canoeing, Kayaking, Picnicking, Rock Climbing
No Camping in the Park– Camping is available in 2 other area state parks including White Lake State Park (Route 16 in Tamworth NH Tel 603-323-7350) and Crawford Notch State Park (Route 302 in Harts Location, NH Tel 603-374-2272)
Echo Lake Park History
---
Cathedral Ledge was purchased in 1899 for $1,000 by a group of area visitors and local residents. In 1900 White Horse Ledge was purchased. Both were subsequently deeded to the State of NH. In 1943 the Society for the Protection of New Hampshire Forests joined with the state to raise funds to buy Echo Lake, protecting it from commercial development. Today Cathedral Ledge, White Horse Ledge, and Echo Lake are all part of the Echo Lake State Park.
Trail Information
---
There is an easy 1 mile hiking trail around Echo Lake. There is also a trail system leading to both Cathedral and Whitehorse Ledges.
Please be aware: All state park trails are marked in yellow. Red and blue markings are boundary markers and are not state maintained trails.
---
Cathedral and Whitehorse Ledges
---
Formed during the retreat of the last ice-age, the sheer granite faces on both Cathedral Ledge and Whitehorse Ledge are clearly visible on the left side of the road when traveling north on Route 16 through North Conway Village. Both of these Ledges have been a favorite destination for visitors to the area for many generations. Experienced climbers, tourists and hikers alike will enjoy the experiences and vistas that the Ledges offer. For more information on local guides and climbing instruction go to our North Conway Hiking page.
Cathedral Ledge
---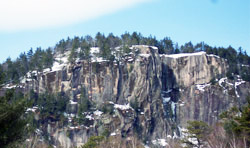 From the North Side of Echo Lake you can take the Bryce Hiking Path 1.2 miles to the top of Cathedral Ledge. (**Note- There is also a 1 mile auto road off from West Side Road ( Cathedral Ledge Road) which leads to Cathedral Ledge. A short walk is required to reach the fenced in vista area. Spectacular views of the surrounding area are possible from the top of Cathedral Ledge.) Experienced climbers navigate the sheer cliff face. Guides are available in both summer and winter to lead both experienced and novice climbers up and down the face of the Ledge. During the summer it is not uncommon to see groups of climbers on the face. View Cathedral Ledge Rock Climbing Video
White Horse Ledge
---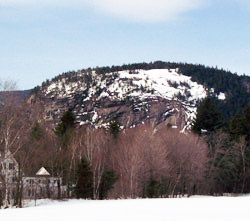 White Horse Ledge overshadows Echo Lake. The White Mountain Hotel is perched on the Eastern slope of the Ledge. There is a 4.2 mile long White Horse Ledge loop trail which starts out at the beginning of the Bryce Hiking Path (On the north west side of Echo Lake) goes around White Horse Ledge and then connects back to the Bryce Path Just north of where the trail began. White Horse Ledge is located just a short walk from Cathedral Ledge. While in the area, don't miss the opportunity to visit both Ledges. The multiple faces and slabs of the Granite Ledge provide ample opportunity for climbers to experience a unique adventure
---