North Conway NH
Official North Conway Area Guide
North Conway NH Kayaking, Tubing, Canoeing, & Rafting

One of the large draws for visitors to the North Conway NH area is Canoeing, Kayaking , Tubing and Rafting. The Saco River is just one popular destination in the area where visitors can enjoy the cool waters while floating down the river and finding a spot to camp along the way if they desire. There are also other spots around the area that you can enjoy these water sports. There's also a great chance you'll see some area wildlife along the way.
Please view our listings below and please let the businesses know that you found them on North Conway NH.com!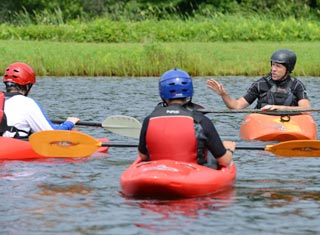 Great Glen Trails Outdoor Center
1 Mount Washington Auto Rd
Gorham, NH 03581
603-466-2333
Our guided kayak tours are a great way for the whole family to spend a safe and really enjoyable day on a beautiful local river. We supply everything you need, you just bring a smile!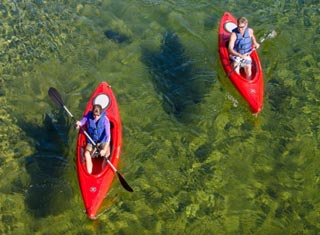 Northern Extremes Canoe & Kayak
1946 White Mtn. Hwy.
North Conway, NH 03860
603-356-4718 or 1-877-722-6748
Your North Conway paddling and tubing headquarters. We offer Canoe, Kayak and Tube rental with Shuttle service available for the crystal clear Saco River.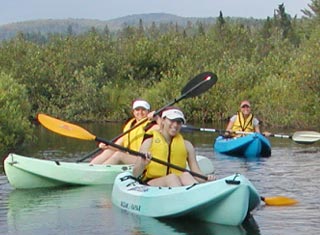 Outdoor ESCAPES New Hampshire, LLC
49 Butternut Ln,
Conway, NH 03818
603-528-0136
Get into nature with safety, fun, and learning! We offer statewide canoe and kayak lessons and tours. Learn all about lake and river paddling, camping, whitewater, and portage. Day trips and multi-day journeys on the Connecticut, Pemigewasset, Androscoggin, Lake Winnipesaukee, Squam Lake, Chocorua Lake, and Great Bay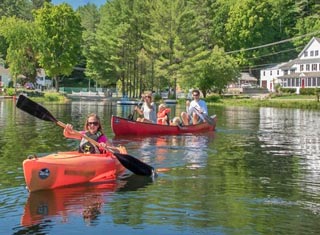 Purity Spring Resort
1251 Eaton Road
East Madison, NH 03849
603-367-8896
With a pristine lake and over 1,000 acres to explore…there's adventure for the entire family at Purity Spring Resort. Explore Purity Lake and NH Audubon's Hoyt Wildlife Sanctuary for a possible sighting of beavers, deer, moose and loons. Kayaks, canoes and rowboats are also included with your stay! Guided tours on the Saco are also available to guests.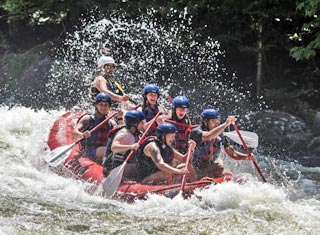 Raft NH
196 Main Street
Gorham, NH 03581
 603-545-4533
Summertime whitewater rafting adventures ranging from mild Class II – wild Class IV. Don't miss is our Land and Lake Wildlife Tour and traditional Moose Tour. Be sure to ask about our signature "Paws and Paddles" day package too! Ages 6+ welcome. Reservations required.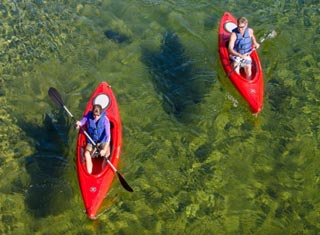 Sacoe Canoe Rental Company
558 White Mtn. Hwy.
Conway, NH 03830
603-356-447-4275
Enjoy Canoe, Kayak and River Tubing on the Saco River. Convenient riverside location. Paddle back to your car.