North Conway NH Pubs and Taverns

Feel like a bite to eat and maybe a drink? North Conway NH Pubs and Taverns will serve you what you need. Located throughout the Mt. Washington Valley lakeside, slopeside or tucked away on a hill. Many offer music nightly all year long while some offer apres-ski entertainment and festivities during the winter months. You'll also find local craft beers on tap from both Tuckerman's Brewing located just south of the Village or from Moat Mountain Brewing Company located just north of the Village.
Please check out some of the fine North Conway Pubs and Taverns below and be sure to let them know that you found them on North Conway NH. com!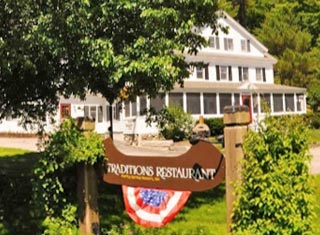 Traditions Restaurant & Pub at Purity Spring Resort
1251 Eaton Rd
East Madison, NH 03849
Lakeside Dining here in the Mount Washington Valley and near to North Conway serving classic and creative comfort food, our open porch and Adirondack chairs are perfect for enjoying a local draft beer, glass of wine, or favorite seasonal cocktail.
More Pubs and Taverns …
McGrath's Tavern
603-733-5955
3465 White Mtn. Hwy., North Conway, NH 03860
Moat Mountain Smokehouse & Brewing Co.
603-356-6381
3378 White Mtn. Hwy., North Conway, NH
Red Parka Steakhouse & Pub
603-383-4344
3 Station St., Glen, NH 03838
Shannon Door Pub
603-383-4211
Corner Route 16 and 16A, Jackson, NH 03846