North Conway NH Area Country Inns

North Conway NH Country Inns offer many choices for all types of travelers and all budgets. Whether you are looking for a fun-filled family vacation or a picturesque romantic get-away for the weekend, you can be sure to find the North Conway Country Inn to suit your needs in North Conway and the surrounding Mount Washington Valley area.
10 listings to review …
Please check out some of the fine North Conway country inns listed below and be sure to let them know that you found them on North Conway NH. com!! Be sure to check out our current North Conway Coupons for Lodging.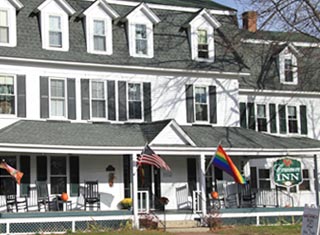 Cranmore Inn
80 Kearsarge St.
North Conway, NH 03860
603-356-5502
In the heart of North Conway, Cranmore Inn is an authentic New England Bed & Breakfast. Walking distance to local attractions. Complimentary breakfast, seasonal pool and hot tub. Rooms have private bath and free Wi-Fi.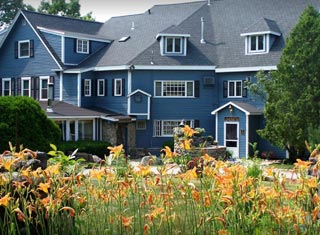 Darby Field Inn & Restaurant
185 Chase Hill Rd.
Albany, NH 03818
603-447-2181 or 1-800-426-4147
Darby Field Inn overlooks the White Mountains with 13 guest rooms, all with private bath and full country breakfast included. Romantic setting is perfect for getaways, elopements and intimate weddings. Onsite restaurant, tavern, trails and spa. Reservations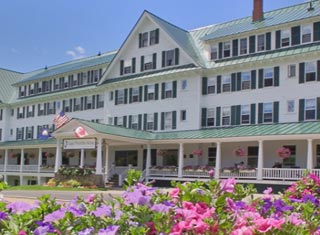 Eagle Mountain House & Golf Club
179 Carter Notch Rd.
Jackson, NH 03846
603-383-9111
Registered with the National Trust for Historic Preservation. 96 rooms and suites, HighFields Dining Room, Tavern, game room, sauna, hot tub. 9 hole golf course, seasonal outdoor swimming pool.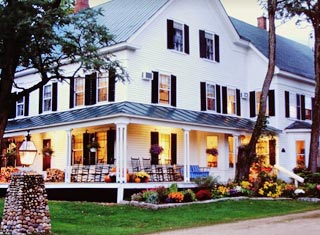 Farm by the River B&B with Stables
2555 West Side Road
North Conway, NH 03860
603-356-2694 or 1-888-414-8353
Trek out on a horseback, take a carriage or sleigh ride from this 1780s historic B&B, spectacular White Mtn. views, Saco River swimming. All private baths, A/C, TV, Wi-Fi. Some: jacuzzi/fireplaces/family suites/ cottage-2 miles to North Conway.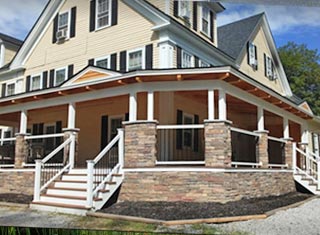 Isaac Merrill House Inn
720 Kearsarge Rd
North Conway, NH 03860
800-328-9041 or 603-733-4290
Under new ownership and featuring extensive renovations both inside and out, the Isaac Merrill House Inn is located just minutes from North Conway village. Complimentary breakfast, cable, movies, games, parking and Wi-Fi all included in your stay.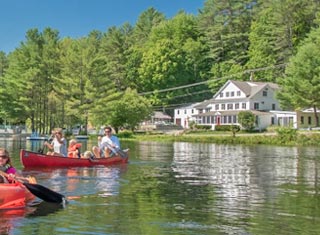 Purity Spring Resort
1251 Eaton Road
E. Madison, NH 03849
Tel 603-367-8896
Celebrating over 100 years of hospitality and lakeside recreation, family-owned Purity Spring Resort has long catered to families, groups and guests looking for traditional country lodging in a setting of forests, lakes and mountains.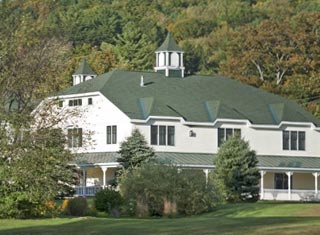 Snowflake Inn
95 Main Street
Jackson Village, NH 03846
603-383-8259 or 1-888-383-1020
Make it a"Perfect Escape" at the "Most Romantic Inn in Jackson, NH!" Creating "World Class Relaxation & Romance" is an Art. Doing it with Fun & Adventure is our Specialty! Unwind by the waterfall in our Tropical Indoor Spa, Ride Horses up Mountains, Golf.. More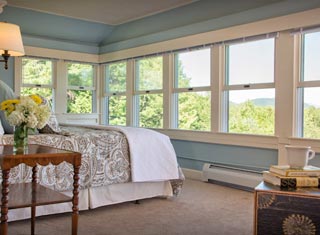 Snowvillage Inn
136 Stewart Road
Eaton, NH 03832
603-447-2818
A majestic mountain view just 15 minutes from North Conway. Snowvillage Inn boasts casual fine dining overlooking our award-winning gardens, 10 km of hiking and snowshoe trails with 17 guests rooms newly renovated with private baths. Book Online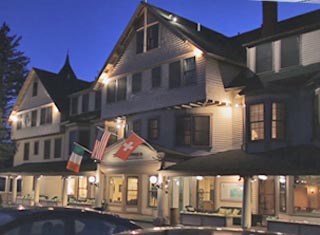 The Wentworth
1 Carter Notch Road
Jackson, NH 03846
603-383-9700 or 1-800-637-0013
An elegant country inn located through the red covered bridge in the center of Jackson Village, offering romantic accommodations – some rooms with your own private outdoor hot tub and fine dining. Book Online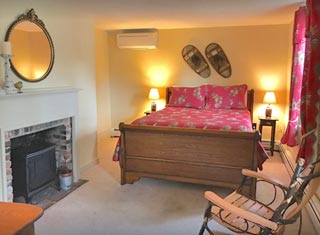 White Birch Inn of North Conway
54 Kearsarge Rd.
North Conway, NH 03860
603-730-5267
Located in the heart of the Village, the beauty of the White Mountains surrounds us. The Inn is just steps away from many of the best restaurants, shops and attractions the region has to offer. All rooms have private baths and free Wi-Fi. We're Pet Friendly!