North Conway NH
Official North Conway Area Guide
North Conway NH Area Snowmobiling

Explore North Conway NH area trails on a snowmobile and you will see scenic vistas and woodlands that few others have access to in the winter. There are over 7,000 miles of trails statewide in New Hampshire that connect to neighboring  states of Maine, Massachusetts, Vermont and event Quebec, Canada.
Trails are groomed and maintained by the New Hampshire Snowmobile Association which is a group of independent snowmobile clubs. Groomed trails link to many of New Hampshire's best hotels, cabins, restaurants, gas stations and snowmachine dealers and service. Many rental facilities offer apparel as well as the machine and offer full or half day guided tours.
Please check out some of the North Conway area Snowmobile rentals, service and sales, lodging and clubs below and be sure to let them know that you found them on North Conway NH. com!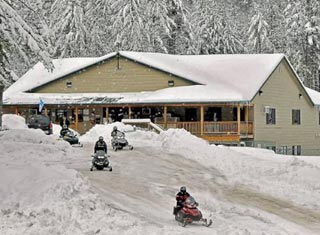 Danforth Bay Camping & RV Resort
196 Shawtown Road
Freedom, NH 03836
603-539-2069
Enjoy winter camping and RVing at its best in the heart of snowmobile country! Hundreds of groomed miles next to Corridor 19, 4-season cabins + RV sites, central facilities with family room, showers, WiFi, cable and so much more! Minutes from King Pine Ski Area and connected to statewide trail network with access to more than 6,800 miles of trails from your back door.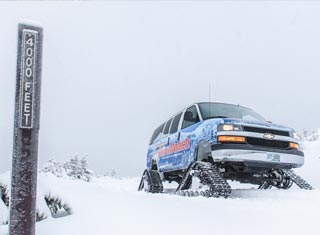 Mt. Washington Auto Road SnowCoach Rides
Rt 16, Pinkham Notch NH
(20 miles north of North Conway)
Tel 603-466-3988
Enjoy the beauty of the Presidential Range & the Northeast's highest peak while riding up to the tree-line on the scenic Mount Washington Auto Road aboard one of our custom made snow-tracked vehicles. Our SnowCoaches can accommodate your entire family, while providing you with a comfortable, breathtaking experience!
Video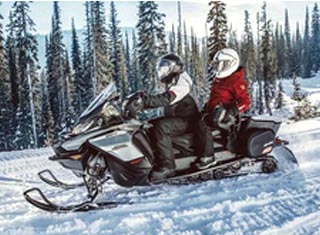 Profile Powersports
1319 N.H. Route 16
Conway, NH 03818
603-447-5855
We are the premier powersports dealer in northern NH! We are a full service dealer for Honda, Ski-Doo, Sea-Doo & Can-Am. We are also the original North Conway motorcycle, scooter & snowmobile rental agency !
Other Snowmobiling Resources …
Mountain Meadow Riders Snowmobile Club
2482 East Conway Rd.
North Conway, NH 03860
603-447-2343
Northern Extreme Snowmobile Rentals
1328 Main St.
Bartlett, NH 03812
603-374-6000