North Conway NH
Official North Conway Area Guide
North Conway NH Area Dog Sledding

Dog sledding is one of the unique winter experiences available when you visit the North Conway NH area in winter. You'll experience the White Mountains like never before while supporting the rescue efforts of Muddy Paw Sled Dog Kennels.
Please check out some of the North Conway area Dog Sledding activities below and be sure to let them know that you found them on North Conway NH. com!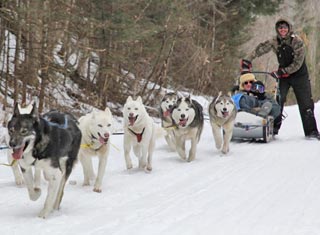 Muddy Paw Sled Dog Kennel
32 Valley Road,
Jefferson, NH 03583
603-545-4533
Year round dog sledding adventures ranging from 2-50 miles. Ages 2 and up welcome. Proceeds help support the 100+ rescue and second chance sled dogs that call us home. Reservations required. The kennel is less than an hour north of North Conway. Meet and greet the dogs, help prepare team for the trail and you are encouraged to be hands on as much as you feel comfortable. This adventure will be more than just a "ride".