North Conway NH
Official North Conway Area Guide
North Conway NH Timeshares

Nestled directly in the heart of New Hampshire's White Mountains, North Conway has long drawn vacationers with its mount-washington-small stunning natural surroundings, nostalgic charm and exciting recreational activities. Mount Washington's peak, the tallest peak in the East, is the perfect backdrop for this laid-back town and is quite a draw in and of itself. From hikes through the White Mountain National Forest during peak foliage season to a day spent shopping in the area's famous outlet malls; there is always something to do in North Conway, and with a North Conway Timeshare you'll be close to it all!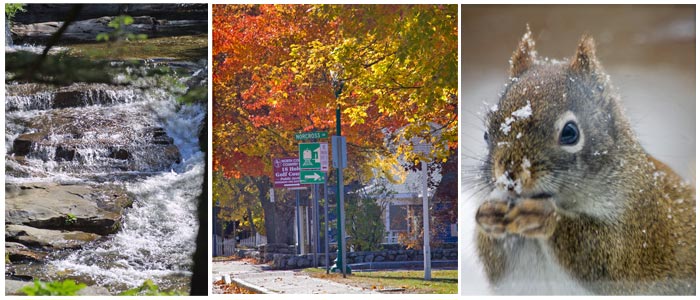 There's a Timeshare for Everyone
This four-season vacation destination has something for every type of vacationer. If you're planning on returning year after year, you may want to consider purchasing a timeshare. Your lodging options vary from cozy bed and breakfast-style accommodations to luxurious five-star ski resorts. Whatever your vacation personality, you'll find the perfect resort and recreation for you.
You'll Always Have Something to Do
New Hampshire is a premier four-season destination, and there are timeshares in different areas to help you take advantage of all attractions. In the summer, enjoy swimming, fishing and kayaking down the famous Saco River. Fall is cathedral-ledge-small famous in New Hampshire for it's spectacular foliage, which brings leaf-peepers from all over the country to revel in the spectacular, fire-colored bursts lining streets, lakes and hills. Spring and summer are the perfect seasons for hiking, biking and walking through the White Mountains' many trails. Finally, winter offers some of the best skiing, snowboarding and snowmobiling in the Northeast. And of course, outlet shopping in North Conway is a year-round activity.
There Are Dozens of Timeshares in the Area
Because this area is such a favored vacation destination, there are dozens of timeshares all over North Conway. Timeshares are a great way to experience all that this fabulous region has to offer. Your vacation property will generally afford you annual or biennial accommodations, which means that you can rest assured that you won't miss any of the exciting attractions that the area has to offer. With a timeshare, you can spend your week visiting famous historical sites like the Cog Railway and the Flume Gorge one year, and spend the next exploring the quaint gift shops in the center of town or the outlet shops that line Route 16.
Try Renting
If you'd like to buy in North Conway, but aren't sure what's right for you, you may want to rent a timeshare first. Renting is a great way to get to know the area and determine where you'd like to eventually buy. You can spend your week hiking, skiing, snowshoeing or shopping, all while researching the region and the individual resort to help decide if you'd like to return again.
Look Into Resale
Whether you're looking to rent or buy timeshare in North Conway, you may want to look into resale. When buying timeshares on the resale market, you can save thousands. Buying resale simply means that you're purchasing your vacation property from a previous owner, rather than directly from the resort. You may find this preferential because you'll not only be able to bypass the aggressive sales techniques that many timeshare resorts employ when selling timeshares , but, in buying from previous owners, you'll have personal connections to the area who can recommend activities and attractions.