North Conway NH Area Fishing Spots and Guides

While North Conway NH and the Mt. Washington Valley is known as a world class trout fishing destination, there is another lesser known opportunity to catch some nice fish in the area. The local bass fishing scene is alive and well, offering up local gem Conway Lake and several other bodies of water. All are easily accessable for shore fishing, canoes and kayaks, or via public boat launches.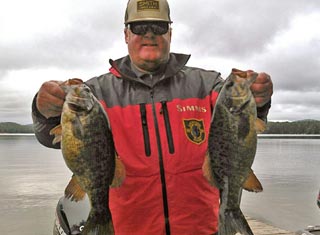 NH Bass Guides
Intervale, NH
603-860-5324
Jim Rockett, who operates NH Bass Guides out of Intervale, guides on many of the local lakes mentioned above. His specialty is working with inexperienced anglers and teaching them the fundamentals of bass fishing. An avid tournament angler, Jim enjoys sharing the opportunity to catch some nice fish with bass fisherman who may be visiting the area from other parts of the country.
Conway Lake, while managed for salmon fishing, has tremendous smallmouth and largemouth bass fishing. With 1275 acres and limited shoreline development, it regularly produces 3-4 lb. smallies around its numerous rocky shoals. Largemouth are generally found in the shallower coves in both the north and south ends of the lake. Day in and day out, Conway Lake offers up some exciting and consistant fishing with little pressure from anglers. Access is available at a public launch on Mill St. in Center Conway.
Just to the south, in the town of Madison, lies 996 acre Silver Lake. With a large public launch on the southern end of the lake, it is mostly smallmouth dominated, but largemouth are present. Silver has lots of rocky shoals, many unmarked, that are ideal for throwing tubes around and provoking the aggressive smallmouth into biting. It has beautiful views up the valley to Mt. Washington and over to Mt. Chocorua in the west.
Just a stones throw from Silver Lake, Ossipee Lake is the largest body of water in the area. Ossipee consists of a large circular main lake connected to a succession of smaller bays via a river. The fishing is varied depending on the location. The main lake is fairly wide open with limited structure. The south end does have an extensive amount of weeds to fish, but overall it is very sandy. The back bays contain weeds and structure that provide good homes to some big largemouth bass. One note of caution though, in July and August (especially on weekends) Ossipee appears to be the pontoon boat capital of the world and it can get hectic all over. Access is free via public launch on Rt. 25 in Ossipee or through numerous private pay launches located at marinas on the lake. Boat rentals are also available at the marinas.
The Mt. Washington Valley also has several smaller, lesser known ponds and lakes that offer some good bass fishing from canoes and kayaks. These include Pequawket Pond in Conway, with access on Quint St.and the Purity Chain along Rt. 153 between Madison and Eaton (new state cartop access area).
The most stealth and scenic place is Chocorua Lake, off Rt. 16 in Tamworth. Well known as one of the most photographed spots in the state, it is not on most lists of places to catch bass. With no motors allowed, this little gem contains some big smallmouth bass. Shallow sand flats extend out from shore, so paddle out until the water drops off and fish all around the lake on the dropoffs.
Southwest of the valley lies the New Hampshire Lakes Region. Containing Lake Winnipesaukee and Squam Lake, the drive of less than an hour is certainly appealing and offers a chance to get out on two of Bassmasters MagazineTop 100 Bass Lakes in the country.
To the north, up past Berlin and 13 Mile Woods, in the heart of Moose Country is Umbagog Lake. This 7850 acre body of water offers some of the remote and scenic bass fishingin the state. Dominated by smallmouth, 100 fish days are not uncommon during the early season. Access is just east of Errol and the state campgound offers canoe and kayak rentals. Just be careful of the wind as Umbagog is quite shallow and kicks up some big waves when the wind blows. Boaters should also be cautious as numerous unmarked obstruction exist. But the fishing is worth it!