North Conway NH
Official North Conway Area Guide
North Conway NH Area Outdoor Recreation

North Conway, The Mount Washington Valley, is surrounded by the White Mountain National Forest with more than 780,000 acres and over 1200 miles of trails to explore. The entire NH White Mountains region is full of outdoor recreation activities. Not just limited to summer, you will find an abundance of outdoor recreation waiting for your pleasure in Spring, Summer, Fall and Winter in NH!
Please take a moment and view some of North Conway NH's area Outdoor recreation activities that our region has to offer.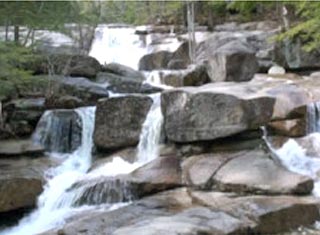 Diana's Bath Waterfalls
West Side Road
North Conway, NH 03860
Definitely worth a visit to this pristine waterfalls area. Easy 6/10ths of a mile hike in to see the falls and wade in the cool waters of the brook.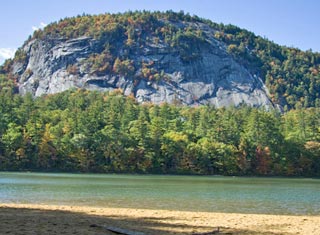 Echo Lake State Park
60 Echo Lake Rd
Conway, NH 03818
603-356-2672
Visit picturesque Echo Lake State Park where you can swim, picnic, hike and enjoy the views from nearby Cathedral and White Horse Ledges.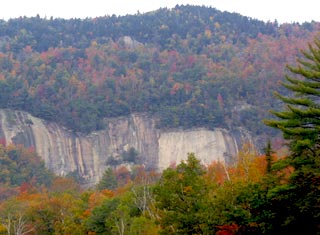 Kancamagus Scenic Highway
Route 112
Conway, NH 03818
A must see! SEE VIDEOS
Enjoy a 34 mile scenic drive along the Kancamangus Scenic Highway starting in Conway and ending in Lincoln NH. Picnic, swim & explore the Swift River, walk along the hiking trails, explore the scenic points of interest along the way.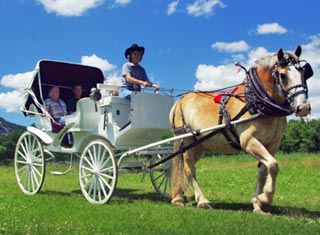 Farm by the River Stables
2555 West Side Road
North Conway, NH 03860
603-356-2694 or 1-888-414-8353
Reserve your private Victorian carriage or sleigh ride for 2 - 4 people on the trails of this North Conway Inn's 70 scenic acres through forests and meadows along the Saco River while enjoying panoramic mountain views.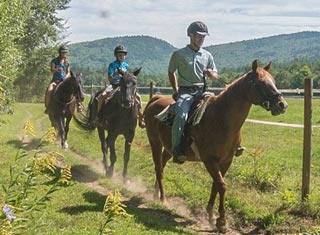 White Mountain Horseback Riding
Attitash Mountain Resort
775 Rt. 302
Bartlett NH 03812
800-223-7669
The Fields of Attitash are home to our Horseback Riding and Pony Rides. Enjoy the tranquility of riding on the back of a beautiful animal through the surrounding pastures, riverfront & Mountains. You'll receive training and get to know your horse before saddling up! An experience for all ages!
Mountain Biking -
Attitash Mountain Resort
775 Rt. 302
Bartlett NH 03812
800-223-7669
Attitash Mountain Resort has over 20 miles of mountain biking trials for all abilities, including 27 downhill trails and 8 cross country trails. Enjoy our scenic cross-country terrain along the Saco River or ride our more extreme, lift-accessed downhill terrain on Attitash.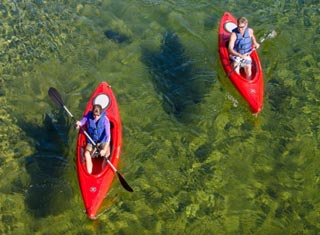 Northern Extremes Canoe & Kayak
1946 White Mtn. Hwy.
North Conway, NH 03860
603-356-4718 or 1-877-722-6748
Your North Conway paddling and tubing headquarters. We offer Canoe, Kayak and Tube rental with Shuttle service available for the crystal clear Saco River.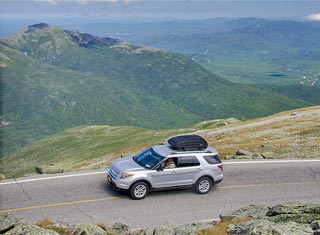 Mt. Washington Auto Road
1 Mount Washington Auto Rd
Gorham, NH 03581 (20 miles north of North Conway)
603-466-3988
Come take a ride up to the summit of Mount Washington & enjoy spectacular views from the tallest peak in the East via the 8 mile Mount Washington Auto Road. Drive your own car or take a comfortable, 2 hr guided tour, which includes an hour on top to explore the summit buildings & environment.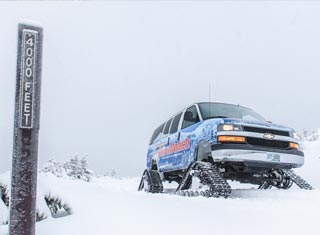 Mt. Washington SnowCoach Tours
1 Mount Washington Auto Rd
Gorham, NH 03581 (20 miles north of North Conway)
603-466-2333
Climb aboard a Mt. Washington SnowCoach for a comfortable winter tour to an extreme world! Powered by a 4track, allwheel powered drivetrain, the 9 passenger Mt. Washington SnowCoach transports guests (weather permitting) into a treeless, subarctic world at 4,200 feet for a truly unforgettable adventure which anyone of any age will enjoy!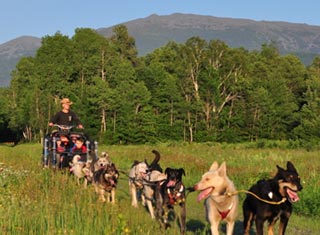 Muddy Paw Sled Dog Kennel
32 Valley Road
Jefferson, NH 03583
603-545-4533
Year round dog sledding adventures ranging from 2-50 miles. Ages 2 and up welcome. Proceeds help support the 100+ rescue and second chance sled dogs that call us home. Reservations required.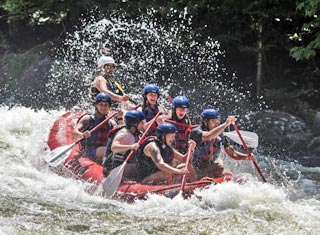 Raft NH
196 Main Street
Gorham, NH 03581
 603-545-4533
Summertime whitewater rafting adventures ranging from mild Class II – wild Class IV. Don't miss is our Land and Lake Wildlife Tour and traditional Moose Tour. Be sure to ask about our signature "Paws and Paddles" day package too! Ages 6+ welcome. Reservations required.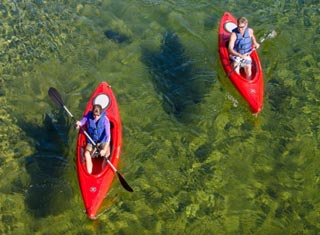 Sacoe Canoe Rental Company
558 White Mtn. Hwy.
Conway, NH 03830
603-356-447-4275
Enjoy Canoe, Kayak and River Tubing on the Saco River. Convenient riverside location. Paddle back to your car.