Mount Washington Auto Road
Website: www.mtwashingtonautoroad.com
A visit to North Conway NH and the Mount Washington Valley would not be complete without visiting Mount Washington and the Mount Washington Auto Road! First opened in to the public in 1861, the Mount Washington Auto Road is America's oldest man-made attraction!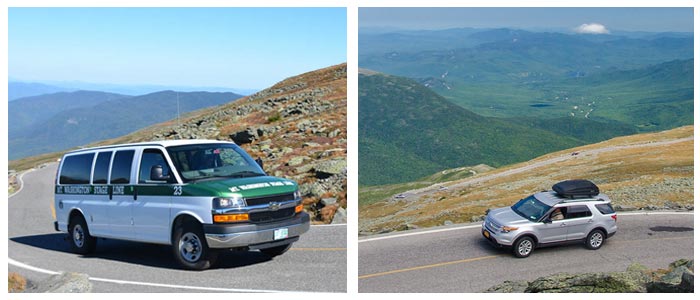 The road climbs 4,618 ft from an altitude of 1,527 ft at the bottom to 6,145 ft at the top. Until recently, Mount Washington held the title of the fastest recorded wind speed on earth. During a wild April storm in 1934, a wind gust of 231 miles per hour (372 kilometers per hour) pushed across the summit of Mount Washington. This wind speed record was finally broken in 1996 by a tropical cyclone measured at ground level in Australia.
Get ready for a breath taking adventure as you climb the auto road to the summit of Mount Washington!
The adventure begins at the toll house where you will be greeted by an auto road employee. Here, you will pay for your access to the road will be given a packet of information about the road, a neat bumper sticker and a CD to listen to on your ascent up the mountain. The CD is like your personal tour guide!
Be prepared for dramatic changes in temperature when you reach the summit. Also be advised  that certain vehicles with full passengers or heavily loaded luggage cannot be permitted on the Auto Road. Unfortunately  Campers and RV's are not allowed on the Auto Road.
As you make your way up the mountain towards the peak of Mount Washington you will see the railroad tracks for the Cog Railway. Please be cautious while driving  as some portions of the road can be quite narrow and can seem a bit nerve racking while you are gazing over the edge.
You may bring your pet in your own vehicle but they must remain on a leash at all times. Pets are not allowed inside any of the buildings.
When you reach the summit, enjoy this beautiful view, you are now at the top of one the world's most spectacular must-see mountains. On a clear day you can see 70 miles or more! At the summit there is a place to eat, an observation deck, a museum, the Mount Washington Observatory and a Post Office that has its own zip code! Also there are 2 gift shops to bring back souvenirs from your journey!
A Little History of the Mount Washington Auto Road
Road work began on the Mount Washington Auto Road in the summer of 1854. By this time there was already the first Summit House up at the top of Mount Washington as well as the Tip Top House that still stands to this day. The road construction was a daunting task due to the fact that the nearest supplies were almost 80 miles away and transportation was limited to horses & oxen. Mount Washington has always been known for its horrendous weather conditions and men worked 10-12 hour shifts living in shanties or tents.
By the fall of 1856, the construction on the Auto Road had progressed to the half way point. Unfortunately by this time, the company ran out of money to be able to complete the road up to the summit of Mount Washington. The Mount Washington Summit Road Company formed in 1859 and resumed the work. The Mount Washington Auto Road was completed in 1861. On August 8, 1861 Col. Joseph Thompson drove the first horse drawn vehicle up to the summit of Mount Washington.
Mount Washington Auto Road
Located on Route 16 in Pinkham Notch NH. 12 miles north Of Jackson NH and Storyland and 2 miles north of Wildcat Ski Area.
The Mount Washington Auto Road does not have a physical address that you can enter into your GPS device so here are the coordinates:
GPS Coordinates: 44.2885 Lat., -71.2258 Long
The Auto Road has many different events that happen all through the spring and into the fall.
Operation Schedule of 2020
Operating hours are ALWAYS subject to weather.
June 20 – August 30 . . ….. . . . . . . . . . . . . . . 8:00 AM–6:00 PM
August 31 – October 4. ……. . . . . . . . …….. . 8:00 AM–5:00 PM
October 5 – October. 25 . . . . . . . ………… . . 8:00 AM–4:00 PM
Special Hours of Operation for 2020
July 18…(Seek The Peak- Virtually On)…..This summer is the 20th anniversary of our annual fundraiser Seek the Peak. What is ordinarily a hiking extravaganza with large gatherings will now be a virtual experience. Our celebration will be a collective of hikes shared online by participants across nation. For more information and to register go to: https://mt-washington.com/events/seek-the-peak-expo 
July 26….(Sunrise Drive & Guided Tour- Sunrise at 5:31 Am)….Open 4:00 AM-6:00 PM
August 30. . .(Sunrise Drive & Guided Tour ) . . Open 4:30 AM–6:00 PM
2 Hour Guided Tour Operating hours for 2019
July 1st thru Oct 25th………..  Book online for reservations. **Available without a reservation if not booked up.
Drive Yourself Rates 2020:
Car and Driver: $35
Motorcycle and Operator: $20
Each additional adult: $10
Children ages 5-12: $7
Children ages 4 and under: Free
Season Pass: $179
2 Hr Guided Tour Rates 2019
Adults: $39 (3 Hour is $65.00 per person)
Seniors (62+) & Military: $34
Children ages 5-12: $18
Children ages 4 and under: Free
All tickets include free admission to the Mt. Washington Observatory's brand new experience at the summit, Extreme Mount Washington (**Currently not open due to Covid-19).  Additionally, a portion of your ticket goes to support the non-profit Mt. Washington Observatory and the Mt. Washington State Park.