North Conway NH Skating Areas

Ice skating is available both indoors and out in the North Conway NH area. The indoor Ham Arena in Conway Village is home to The Mount Washington Valley Skating Club which offers figure skating lessons for all ages and abilities. They also offer public skating, stick-and-puck sessions and hockey leagues for all ages. There is also covered skating under the Tohko Dome at Purity Spring Resort.
If the tradition of skating outdoors is more to your liking, North Conway has that too! The Conway Parks and Recreation Department offers and maintains a skating rink,lights and a warming hut right in Schouler Park in the heart of North Conway Village.
Please check out some of the North Conway area Skating Areas below and be sure to let them know that you found them on North Conway NH. com!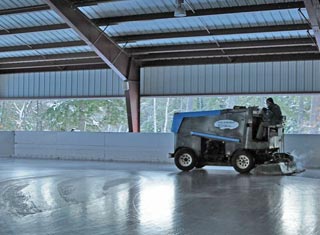 King Pine Ski Area
& Purity Spring Resort
1251 Eaton Road
East Madison, NH 03849
Tel 603-367-8896
Grab the family & lace up the skates! You'll be sure to enjoy our well-lit zamboni-groomed ice rink under the Tohko Dome. Additional activities include skiing, snowshoeing, Nordic skiing, Snowtubing & sleigh rides.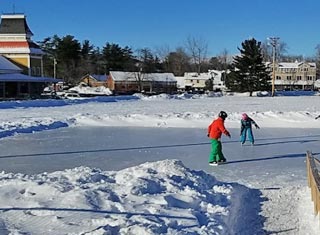 Schouler Park
White Mtn. Hwy.
North Conway Village, NH 03860
603-447-5680
During the winter months, the Town Parks and Recreation department sets up and maintains a rink in Schouler Park for public skating right in front of the Railroad's Victorian train station. The rink is lit for night skating and there is also a warming hut.