Mount Washington Observatory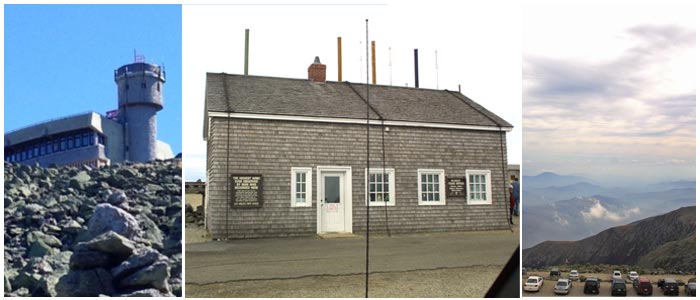 Sitting atop of the Northeast's tallest peak, Mount Washington, is the Mount Washington Observatory. Founded in 1932, and originally housed in what used to be The Old Stage Office used by the Mount Washington Auto Road , this non-profit organization had a goal to record the weather in one of Earth's most extreme locations, so that they could learn more about our atmosphere and share their discoveries with others. Today the original founder's legacy lives on…
More than 80 years has passed since its founding. The Mt Washington Observatory Weather Station is current housed in a 6,000 square foot Concrete, steel reinforced building erected in 1980 by the State Of NH. Since its inception, the Mount Washington Observatory and Weather Station has been continually manned to record the weather and other atmospheric data.
Today, visitors can visit the Mount Washington Observatory weather station located inside the Mt. Washington State Park Sherman Adams Visitor Center, so tours are available whenever the Visitor Center is open (generally mid-May through mid-October). If you would like to see what it looks like on Mount Washington, you can view the Mount Washington Observatory weathercam. Click here to view the cam.
Visitors can get to the peak of Mount Washington in several different ways without having to hike.
The Mount Washington Auto Road allows visitors to either drive your own car up the mountain or take a guided tour in one of their passenger vans. Although the Mt Washington Auto Road does not offer passenger service to the Mount Washington Observatory during the winter months for the general public, they do offer their SnowCoach passenger service part way up the mountain in the winter months.
The Cog Railway offers passenger train service to the top of Mount Washington generally from the end of April through beginning of November, weather permitting.  Since 2009, the Cog Railway has donated a portion of each ticket purchased to the Mount Washington Observatory in exchange for free admission to the Observatory's summit museum for all of The Cog's rail patrons.
Here are a few interesting facts regarding Mount Washington observatory Weather.
The Summit of Mount Washington is either in the clouds or fog at least 300 days per year.
The Temperature at the summit of Mount Washington has never risen above 72 Degrees F (since records have been kept).
The Lowest recorded temperature on the Peak of Mt Washington is 47 Degrees F below zero.
The highest surface wind speed ever measured anywhere on earth (record was broken in 1996) was measured at 231 MPH on April 12th, 1934 at the Weather Observatory Station on top of Mount Washington.
Visitors to North Conway NH can enjoy free admission to the Mount Washington Observatory Weather Discovery Center, a sister property of the Mount Washington Observatory organization.
The Mount Washington Observatory Weather Discovery Center is an interactive science museum that brings the wonder of the atmosphere right to your finger tip through interactive exhibits like their air cannon, flow tank and wind room. Visitors get to meet and interact with an actual scientist living and working in the Mount Washington Observatory mountaintop weather station through a live video chat, offered daily at 11am and 2pm.
The Mount Washington Observatory Weather Discover Center, located across from the Eastern Slope Inn at 2779 White Mountain Highway, North Conway, NH 03860 is generally open daily from 10am to 5pm.