North Conway NH area Covered Bridges

There are sixty-six covered bridged in New Hampshire and six of them are in the North Conway and the surrounding area. All were built in the 1800's and all but two of them are still in operation. These bridges were covered to help protect the wooden structure from the weather, The Swift River Bridge is considered to be one of the most photogenic in the state and the Jackson Bridge the most romantic.
Go visit these wonderful historical landmarks and enjoy a piece of local history!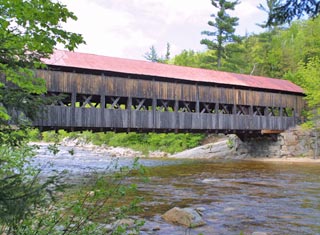 ALBANY NH – Crosses the Swift River
SEE VIDEO
Year of construction – 1858
Style of bridge – Paddleford truss with arches
Size of bridge – 120 feet long x 21 feet wide
Built by – Amzi Russell & Leandre Morton
Location – Dugway Rd. in Albany. Just north, 6 miles west on Rt. 112 (Kancamagus Highway)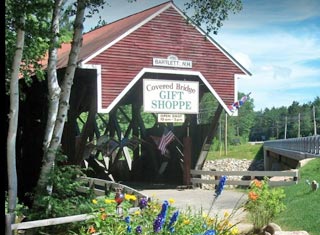 BARTLETT NH – Crosses the Saco River
Converted to a gift shop in 1965
Year of construction – 1851
Style of bridge – Paddleford truss with arches
Size of bridge – 166 feet- 10 inches long x 20 feet- 4 inches wide
Location – Rt. 302 in Bartlett, on the right hand side heading north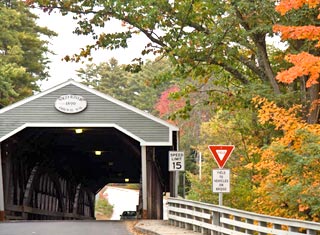 CONWAY, NH – Crosses the Saco River
Saco River Covered Bridge
Year of construction – 1890
Style of bridge – Paddleford truss with arches
Size of bridge – 224 feet- 9 inches long x 30 feet- 4 inches wide
Built by -Charles and Frank Broughton
Location – ½ mile north of Rt 16 at Conway Village (Can be seen on the left hand side following Rt 16 north)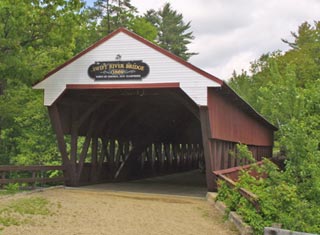 CONWAY, NH – Crosses the Swift River before entering the Saco River
Swift River Covered Bridge
Year of construction – 1890
Style of bridge – Paddleford truss with arches
Size of bridge – 129 feet- 4 inches long x 21 feet wide
Built by – Jacob Berry and Jacob Berry, Jr. Original bridge built in 1850 by John Douglas was destroyed in a flood in 1869.
Location – ½ mile north of Rt 16 at Conway Village (Located very close to the Saco River Covered Bridge)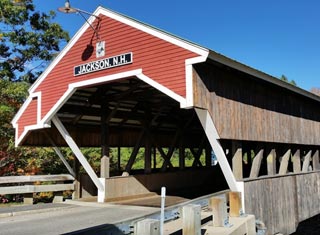 JACKSON, NH – Crosses the Ellis River
"The Honeymoon or Kissing Bridge"
Year of construction – 1876
Style of bridge – Paddleford truss with an added sidewalk
Size of bridge – 121 feet- 1 inch long x 26 feet- 5 inches wide
Location – At the intersection of Rt 16 and Rt 16A in Jackson Village NH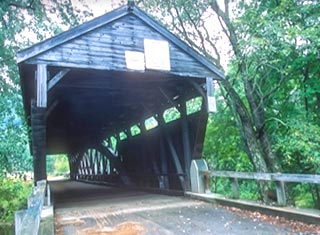 OSSIPEE, NH – Crosses the Bearcamp River
Whittier River Covered Bridge
Year of construction – 1870's
Style of bridge – Paddleford truss with arches
Size of bridge – 132 feet- 7 inches long x 20 feet- 6 inches wide (Closed to vehicle traffic)
Built by – Jacob Berry
Location – Ossipee Village (west of Rt 16 heading toward Conway)