Top 5 Family Attractions near North Conway NH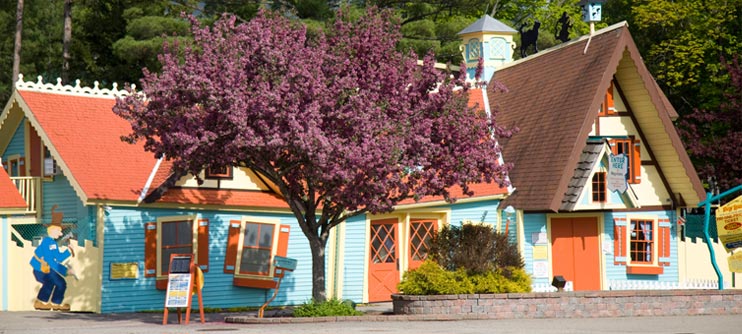 The North Conway, NH area is the home for fantastic family fun for all ages and interests! Check out our Top 5 list of Family attractions in the North Conway NH area.
Whether you prefer to challenge yourself on a ropes course, visit fantasy amusement parks, enjoy splendid White Mountain scenery, or celebrate the history of a bygone era, everything you need for a great family vacation is easily accessible in the North Country!
(5) Swing from the Trees at Monkey Trunks
Monkey Trunks is an aerial adventure center in Chocorua, NH, just 20 minutes down the road from North Conway. Founded in the summer of 2008, this popular family attraction offers outdoor challenges and confidence building activities on a variety of ropes courses, zip lines and obstacles. Safety is the primary focus, and guests complete a ground school and safety course before venturing out to test their strength, coordination, and confidence.
Monkey Trunks features courses with tight ropes, rolling logs, hanging tires, and cargo nets. There is one course for children and another for adults. The courses get harder as you progress and everyone will find challenge and adventure. One guest described Monkey Trunks as an "adult sized jungle gym/obstacle course, complete with a huge rope swing and zip line." They are open weekends beginning in early May, and every day from mid-June through Columbus Day.
(4) Drive to the Sky on the Mount Washington Auto Road
Mount Washington is one of the most famous landmarks in the North Conway area, and driving up the Auto Road is a great way to take in the splendor of the White Mountains. This 7.6 mile road takes you from Pinkham Notch, in Gorham, NH, to the top of the highest peak in New England. Opened in 1861, the road climbs 4,618 feet in elevation, and is the only place you can drive above tree line in the White Mountain National Forest.
The Mount Washington Auto Road features lots of events throughout the year such as bicycle and foot races, sunrise drives, guided tours, a motorcycles only day, and even a day just for ATVs. This is a steep and winding road, so make sure your vehicle is in good condition, and be aware that there are some vehicle restrictions, such as no dual wheeled trucks, and a maximum wheelbase of 161 inches. Snowcoach tours are available in the wintertime, weather permitting. The snowcoaches are 9-passenger vans with tracks on them, and they travel up to tree line, at approximately 4,300 feet elevation.
(3) Revel in the Magic of Christmas in any Season at Santa's Village
If fantasy amusement parks appeal to you, Santa's Village, in Jefferson, NH, is a place you won't want to miss on your family vacation. Located just an hour from North Conway, Santa's Village has rides, shows, and special events in the summer, fall, and at Christmas time. There are water slides, bumper cars, a Ferris wheel and a log flume ride, as well as a dozen places to eat, with food options to please kids of all ages.
Some favorite activities at Santa's Village include visits with Santa, live reindeer at the Reindeer Rendezvous, and a blacksmith shop that makes custom good luck rings on site. The HoHoH2O water park is a great place to cool off in the summertime, too. The park features lots of wet fun including slides and climbing activities. Santa's Village also has a great light show, located in the Polar Theater in the summer, and outside on Main Street at Christmas time. Be sure to watch "A Tinkerdoodle Christmas" in the Polar Theater. This animated 3-D movie is the story of Tink, Santa's chief elf.
(2) Travel Back in Time on the Conway Scenic Railroad
The Conway Scenic Railroad is a history buff's dream! Departing from an authentic 1874 Victorian train depot in downtown North Conway, trains run north and south through the valley, as well as through Crawford Notch. Options include riding coach, first class, or in a dining car. The railroad also has an open observation car that is perfect for taking in the scenery first hand.
Classified as a heritage railway, the Scenic Railroad uses historical locomotive and passenger cars, and also features a coal-fired steam locomotive that is used for special occasions. The railroad has a total of 51 miles of track, which were originally part of the Boston & Maine, and Maine Central Railroads.
(1) Get Lost in a Fairy Tale at Story Land
Story Land, in Glen, NH, has entertained kids since 1954.  With 23 rides, and characters like Winnie the Pooh, Curious George, Tigger, and Paddington Bear, guests have no shortage of activities to enjoy. There are character appearances and dinners, and you can even have tea with Cinderella! Be sure to check out rides like the Polar Coaster, Turtle Twirl, and the Great Balloon Chase.
The staff at Story Land is friendly and engaging, and they have thought of everything you need for a great family day, including free pet kennels, strollers, wheelchairs, and free parking. There is great food, too, and options are available to meet any dietary restrictions. You may bring your own food into the park, also. Story Land is all-inclusive and features a "next day free" option for anyone who arrives during the last three hours of the day.
Plan your vacation in the North Conway, NH area today, and enjoy all of these great family attractions!