Romantic Getaway Ideas in North Conway, NH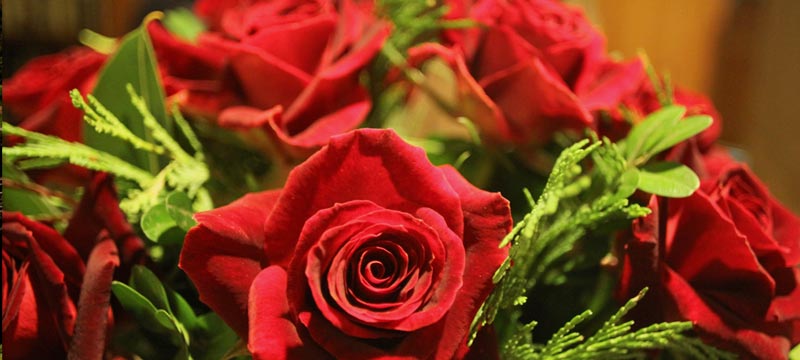 Looking for unique ideas for a romantic escape in North Conway? Want to make special memories with your sweetheart? Look no further! Here are some great ideas for getting away and reawakening your romance!
Book a Romantic Room
Start your adventure with a wonderful place to stay. The North Conway area is home to many superb hotels, bed and breakfasts, and romantically themed rooms – there are choices to fit any style!
Adventure Suites (www.adventuresuites.com) offers 18 suites, each with a special theme. Choose from the Love Shack, Victorian Spa, Dragon's Lair, or any of the other remarkable rooms. With specialty services including in-room massage therapy, rose petals, fresh baked cookies, or even the "Great Impressions Package", you're sure to find the perfect experience at Adventure Suites!
Stonehurst Manor (www.stonehurstmanor.com) is located in North Conway on 33 acres, and features rooms in the manor and condo lodging. Stonehurst also arranges seasonal activities including scenic train rides, canoe trips, and berry picking excursions. They have a marvelous on-site restaurant and an outdoor pool, too.
The Snowflake Inn (www.thesnowflakeinn.com) in Jackson is another great option for that special trip. They offer an on-site fitness center, and amenities such as Reiki, hot stone massage, and a special one-hour body polish!
The Bernerhof Inn, in Glen (www.bernerhofinn.com) specializes in delightful getaway stays, and seasonal romantic packages. They even have their own cooking school where you can learn to cook sushi or prepare an old fashioned clambake.
Once you choose the perfect lodging, the fun really begins. Here are some ideas for impressing the love of your life:
Take a Sleigh or Carriage Ride
What is more romantic than a sleigh ride? Nothing says "I love you" like a sleigh or carriage ride, and these activities are close-at-hand in North Conway.
Fireside Sleigh Rides (www.firesidesleighrides.com) is located in North Conway, and receives rave reviews for their horse-drawn sleigh rides, which include hot cider, blankets and a trip to a campfire (marshmallows included!) by the banks of the Saco River. In the summer season, they offer wagon and horseback rides through their partners at Snowy Creek Outfitters (www.snowycreekoutfitters.com).
Farm by the River Bed and Breakfast with Stables (www.farmbytheriver.com) is a great bed and breakfast with suites, cabins, and horseback and carriage rides. Be sure to check out their "Ride and Stay" packages, or visit for a day and enjoy a scenic ride.
Hike to a Waterfall
The North Conway area is home to many magnificent and easily accessible waterfalls – visiting them is perfect for putting the passion back into your relationship. Take a special photo and cool off on a hot day at one of these local waterfalls!
Diana's Baths, located off West Side Road, is part of the White Mountain National Forest and has a smooth approach trail that leads to a series of cascades on Lucy Brook. This scenic and historic waterfall was home to a water-powered sawmill in the 1800's, and is a favorite among visitors to the North Country.
Glen Ellis Falls, in Jackson, is another great waterfall. Situated along Route 16, a half-mile south of Pinkham Notch, the 65-foot high Glen Ellis Falls is accessible via a short hike that begins by going underneath Route 16. The path to the falls is well maintained, and there are numerous interpretive signs that explain the history and geology of the falls.
Arethusa Falls is a 140-foot tall waterfall in Crawford Notch State Park. Named after the Greek nymph Arethusa, this waterfall is on the Arethusa Falls Trail, 1.5 miles off Route 302. Arethusa Falls was discovered in 1875 by Edward Tuckerman, and is the second highest waterfall in New England.
What better place to express your affection than at one of the many scenic and historical covered bridges in the area?
The Albany Covered Bridge is located off the Kancamagus highway, six miles outside North Conway. This bridge crosses the Swift River, and was built in 1858 at a cost of $1,300. The Albany Covered Bridge is 120 feet long and 21 feet wide.
The "Kissing Bridge" along Route 16 in Jackson, crosses the Ellis River, and is one of the most photographed covered bridges in New Hampshire. Also known as the "Honeymoon Bridge", this bridge was built in 1876 by Charles and Frank Broughton. This bridge is 121 feet long and features a sidewalk that was added in 1930.
The Bartlett Covered Bridge was built in 1851, and is 4.5 miles east of Bartlett Village on Route 302. This bridge is 166 feet long, and is closed to vehicles. The Bartlett Bridge is privately owned, and is the site of a gift shop that was built in the 1960's.
Take a Scenic Drive
Scenic drives in the White Mountains are another great romantic activity. The Kancamagus Highway is one of the most scenic roads in the area. This 34-mile road goes from Conway to Lincoln over Kancamagus Pass (elevation 2,860 feet). The "Kanc" was built in 1959, and paved in 1964. There are numerous scenic overlooks and campgrounds along this popular road.
The Mount Washington Auto Road  is another popular scenic drive. This 7.6-mile long road goes from  Route 16 in Gorham to the top of Mt. Washington – the highest peak in New England (elevation 6,288 feet). There are fantastic views along the upper portion of the road, which is above tree line. Guided tours are available, and wintertime access is provided via "snowcoaches", which are 9-passenger vans equipped with tracks instead of wheels.
Surprise your sweetheart with a wonderful romantic getaway in the North Conway area today!